Are you looking for intuitive medical auction software to help you sell more online?
We provide the medical auction software solutions that medical equipment auctioneers need to maintain a competitive advantage.
We have more than ten years of experience offering auctioneers secure timed online auctions and live webcast auctions.
Utilizing the most recent cloud web technologies, our medical auction software works flawlessly on smartphones, tablets, desktops, and laptops.
Our software has straightforward and approachable functionality. with a cutting-edge, user-friendly dashboard.
Options for streaming music and video in real-time.
You have access to all the resources you require to enable online bidding thanks to our customer management, reporting, and invoicing platforms.
To sell your medical assets online, we'll help you build up your own independent online medical equipment auction hub.
Help your bidders find exactly what they're after with Smart-filtering
Our smart categories system is in-built into our platform and streamlines the process of bidders locating the lots they are interested in each auction. With our in-built filtering and categories system, your online bidders can quickly sort through everything from hospital-grade equipment, lab equipment, surgical, health, and diagnostic machines.
The white-label solution embeds on your website. Plus your custom branding and colours promote your brand equity.
Worldwide support for your medical auctions
Our company offers worldwide auction support for each and every one of our client's options. We have over 10 years of experience helping independent auctioneers be successful online.
Set-up, support, and training are standard to ensure your auctions run smoothly.
We also have an in-house marketing team, technical support, and web development team at your disposal. Including website, email, and social media marketing.
So what are you waiting for? Put your brand at the forefront of the medical auction industry. Get in contact with us today.
Online auction solutions for your business
🎥 Live Webcast Auctions
⏳ Timed Online Auctions
📈 Marketplace
👩‍💻 Remote Clerking option
✅ Everything you need & will run from your own website
🏷 White Label Auction Software – 'value protect your bidders & IP' ( Not a group site
)
So modern works on all devices without frustrating bidders to download apps
🧑‍💻 Includes Setup, Training & Local Ongoing Support
🧾 Auction invoicing & reporting
🖥 Websites & marketing
😊 Simple for bidders and powerful for auctioneers
So ready to get started?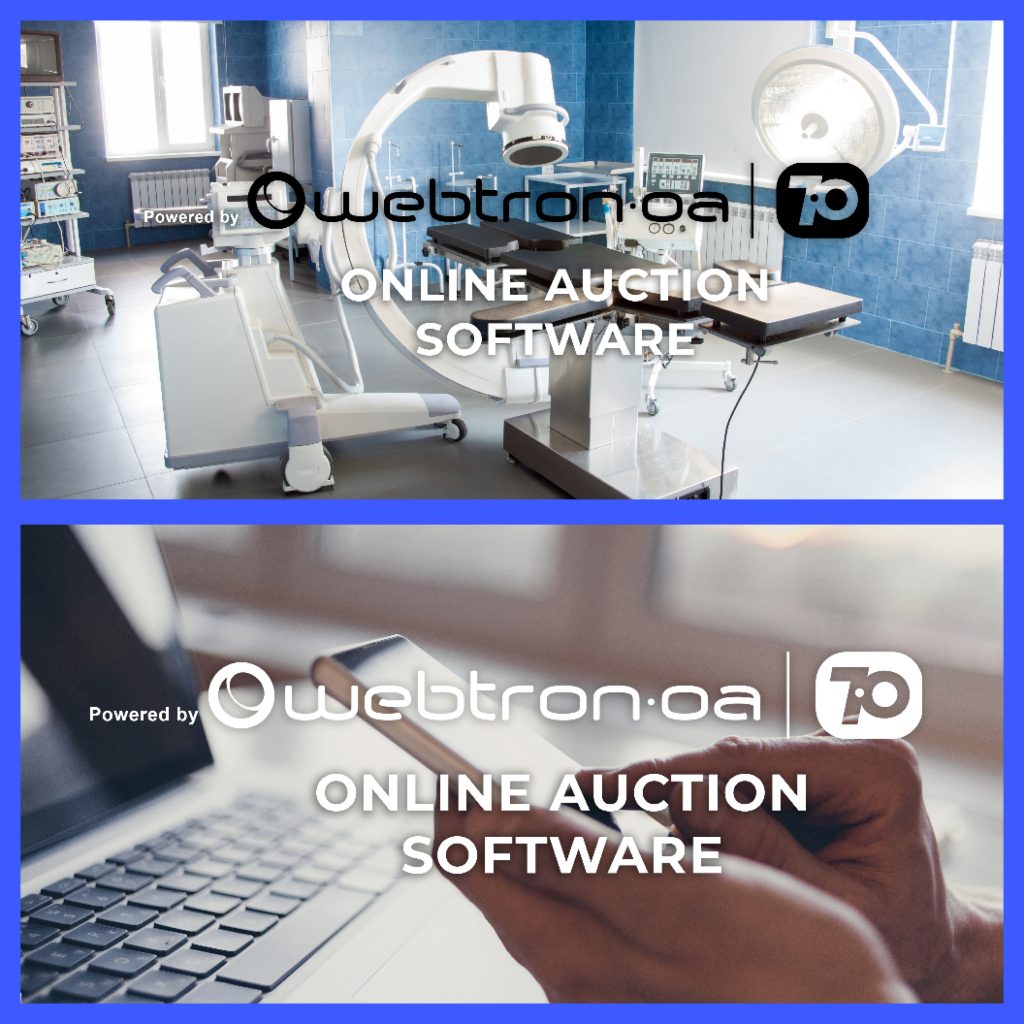 The New Webtron 7.2 Auction Software is here
There has never been a better time to upgrade your online auction software to Webtron's 7.2 newest auction software release.
Take advantage of Webtron 7.2, a white-label auction solution that runs from your own website. It has been designed for Medical auctioneers like you to take your online auction business to another level.
Webtron 7.2 is'Simple for bidders and powerful for auctioneers'.
Please get in touch and arrange a demo for your business.
Want to learn more?